Quality Packaging is the Key to Increasing Sales and Brand Awareness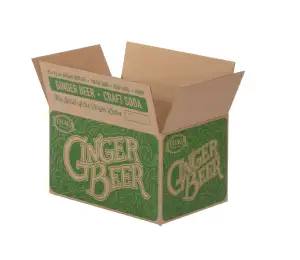 Packaging is more than just a way to protect your product. It plays a vital role in the sales process. Without quality packaging, customers might not notice your brand. Worse, they might be turned away by sub-par packaging. The good news? If you spend time developing great packaging, it could drastically improve your sales and brand awareness.
Just how important is product packaging? Approximately 72% of American consumers say that product packaging design influences their purchase decisions. And 30% of businesses report an increase in revenue after improving their product packaging. Done right, revamping your product packaging could take your business to the next level. But, how do you get started? What are the key elements of your packaging design and how do you optimize them? Let's dive in.
Develop Your Brand Identity
Before you dive into designing your packaging, you need to have a deep understanding of your brand's identity. What are your core values, mission, and unique selling points? Your packaging should aim to reflect these. For example, if you want your brand to be known for its sustainability, your packaging should use sustainable materials. If your brand focuses on luxury, your packaging should exude elegance and sophistication.
Define Your Target Audience
After you've developed your brand's identity, it's time to weave that in with your target audience. Consider their demographics, preferences, and behaviors. Creating a packaging design that resonates with the audience creates a stronger emotional connection and increases the chances of a purchase. If your product is aimed at children, you may opt for more of a bright and playful packaging approach. A professional audience may be more likely to resonate with a sleek and minimalist design.
Look at the Competition
What colors, typography, and imagery are your competitors using? Looking at these aspects can give you insights into market trends and help differentiate your product. You should never copy your competition, but instead take inspiration from them.
Choose the Best Materials
Your chosen materials should align with your brand identity and the nature of your product. That being said, many consumers prefer certain types of packaging. For example, many consumers are looking for brands to increase their sustainability focus. These consumers are more likely to purchase renewable corrugated packaging rather than unsustainable plastic packaging.
Prioritize Functionality
The aesthetics of your packaging surely matter, but so does the functionality. Your packaging needs to protect the product during transportation and storage. However, it should also be easy to open and reseal because it promotes a positive customer experience.
Tell a Story
In a crowded marketplace, how can you ensure your product stands out? Telling a story with your packaging can develop an emotional connection with consumers, making them more likely to buy your product. You could share your brand's journey, values, or the inspiration behind the product. Just make sure it's succinct and to-the-point.
Consider Practicality and Cost
It may be tempting to go all-out with fantastic packaging, but you must consider the practicality and cost. Elaborate designs could lead to higher production costs, which might have to be passed onto the customers. That's why it's important to find the right balance between creativity and cost.
Choose the Right Colors and Brand Elements
Typography and color choices can dramatically impact how consumers perceive your brand. Fonts should be legible and consistent with your brand's tone. Colors should evoke emotions that align with your brand's identity and the product itself. It's best to consider the psychology of colors while you're picking out what suits your brand. For example, blue conveys trustworthiness, while green signifies eco-friendliness.
Work with an Experienced Packaging Manufacturer
Perhaps the most important step in creating product packaging is to work with an experienced packaging manufacturer. They can help guide you in the right direction. You won't have to make all the decisions yourself — you'll have a team of professionals behind you. But, how do you know where to start? Where do you find a reputable packaging manufacturer? Start with Tyoga Container.
For more than 50 years, Tyoga Container has been solving even the most challenging packaging needs. We can help you design, manufacture, and ship your products, ensuring you have what you need, when you need it.
Our facilities employ state-of-the-art equipment and an experienced team, allowing us to go beyond the basics to quickly meet the most challenging needs. Our dedicated team works with you to understand your needs, and matches you with a custom corrugated solution to streamline your operations. Our fast and flexible factories are optimized for quick SKU changes and short lead times. Whether you're looking for a small or large run, we can make it happen.
Our dedicated team always looks for ways to say 'yes' to you and 'no' to complexity, which makes it easy and enjoyable to do business with us. Our people go above and beyond to be knowledgeable, friendly, and always accessible. When you work with us, we'll go beyond your expectations. We always strive to meet our promises with the knowledge and ease you expect of a family-owned company that's been around for over half a century.
Many suppliers hit the expected marks for quality, price, and availability. But when 'more' matters, customers come to Tyoga Container. And they keep coming back because of our values that continue to define us and set us apart in the industry.
Need Help with Your Product Packaging?
At Tyoga Container, we're standing by to help you create the perfect packaging for your brand. Contact us for an initial, no-strings-attached consultation.