Choosing the Right Printing Process for Your Packaging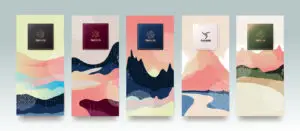 When you're designing your packaging, you want it to stand out amongst your competitors. You want it to grab customer attention and help funnel customers toward a sale. A great design and powerful text is the first step to making this influential packaging. But, the work doesn't stop once you have the final design from your graphics team. Believe it or not, which printing process you choose can dramatically impact how your packaging is perceived. You have the option to choose between digitally printed or litho laminated packaging, which each have their own advantages. So, how do you know which one is right for your business? What are the advantages and disadvantages of each printing process? Read on for the answers.
What is Litho Laminated Packaging?
Litho lamination is used to create various packaging and display materials, including boxes, retail signs, point-of-purchase displays, bulk/dump bins, and floor stand displays. This process uses two plates — a positive and a negative — to transfer high-quality color graphics onto the packaging material. The positive plate features a smooth surface that attracts oil-based inks and repels water. The negative plate attracts water and repels oil. The litho lamination machine uses rubber rollers to extract water from the negative plate and expel ink from the positive plate, transferring the image onto the material.
What is Digitally Printed Packaging?
Like litho lamination, digital printing can be used to create boxes, retail signs, point-of-purchase displays, and floor stand displays. However, the process in creating them is completely different. Digital printing applies ink directly onto the product packaging; no plates are needed. Because most digital printers use toner and liquid inks that don't soak into the material, UV curing or laser heating is used to adhere the ink.
Digitally Printed vs. Litho Laminated Packaging: Which One Should You Choose for Your Business? Consider These Points
Production Run
For smaller runs — a couple hundred pieces or less — digital printing makes more sense. Litho laminated packaging has a higher cost due to the printing plates, but it's more cost effective once you start producing 1,000 pieces or more.
Texture
When the final texture of your packaging matters, it's better to choose litho lamination. Often, packaging companies use pre-print machinery, like an asitrade, to create a smooth, fluted corrugated material, resulting in a smooth surface. Printing companies can also pre-print on the liner before it's attached to the final substrate, meaning you'll get packaging or a display with a smooth, eye-catching surface.
Digital printing, on the other hand, applies ink directly to the material surface. This means digitally printed packaging will have a textured surface, following the bumps and grooves of your chosen substrate.
Stock Type and Weight
Your packaging material will often determine which process you can use. Digital printing machines can run stock from 70-300 grams per square meter (gsm) but litho lamination is more flexible, running any paper card between 60 and 500 gsm.
Your chosen substrate may also dictate which printing process is more beneficial for your packaging. Digitally printed packaging is more limited in the types of material it can print on. Some textured materials won't provide a great final image and gloss papers might end up looking flat. The litho laminated process has a wider range of materials to choose from.
Lead Times
If you need packaging quickly, digital printing may be the best choice. Lead times for litho laminated materials will be longer due to plate production.
Also, digital printing may be better if you plan on making routine changes to your packaging. If you change your packaging when using the litho lamination method, you'll have to pay for new plates each time.
Work with Tyoga Container for Your Packaging Needs
Tyoga container has experience creating litho laminated packaging and displays of various sizes. These materials are perfect for e-commerce and retail applications alike. One thing that makes Tyoga Container stand out is our experience with large litho laminated packaging and displays. We've created high-quality materials for huge corporations like Shop-Vac and Craftsman and we're ready to do the same for your business.
With more than 50 years of designing and manufacturing experience, we can handle even the most complex requests. Our team works with you to understand your unique challenge and provide a simple, durable solution. Our people go above and beyond to be knowledgeable, friendly, and always accessible. In addition to our corrugated products, we also offer bulk bags, pallets and crates, along with transit protection and packaging materials.
Ready to Get Started?
When you're ready to discuss your packaging challenges, we're here to help find a solution. Reach out to our team for an initial, no-strings-attached consultation.